02. Censimento dei Laboratori di Fabbricazione Digitale in Italia - Italy 2014/2015 The research
At the same time of the development of the first edition of the Makers' Inquiry, the Make in Italy Foundation CDB developed this research that focused on Maker Laboratories (2014-2015). While this research and the Makers' Inquiry started independently, both shared the presence of one researcher (Massimo Menichinelli). Since this research was released as open source as well, it has been included in this website as well in order to further promote it.
Research group
Massimo Menichinelli - Fondazione Make in Italy CDB
Alessandro Ranellucci - Fondazione Make in Italy CDB
Download the report (in Italian)
This work is licensed under a Creative Commons Attribution-ShareAlike 4.0 International License.
Read the report online (in Italian)
Buy a printed copy (in Italian)
Beside the digital copy, you can also buy a print-on-demand version un Lulu.com.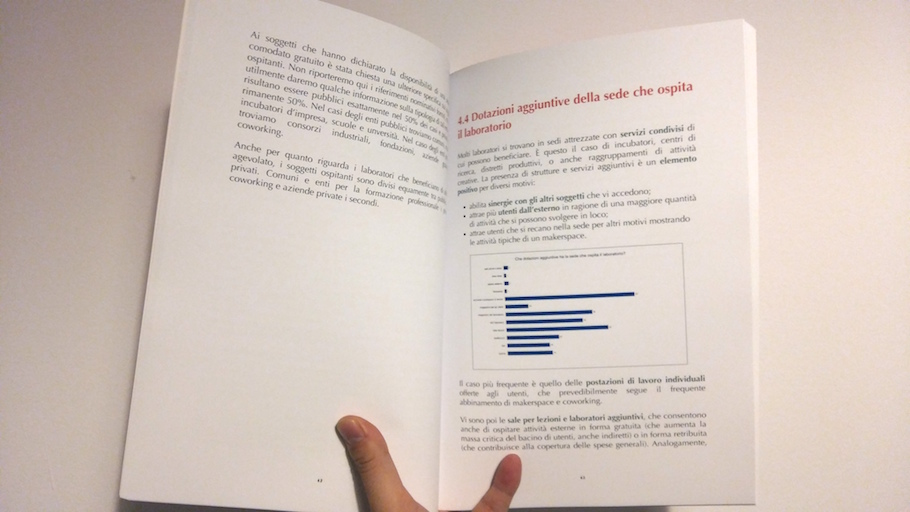 Cite the report
APA Style 6th Edition
Menichinelli, M., & Ranellucci, A. (2015). Censimento dei Laboratori di Fabbricazione Digitale in Italia 2014. Roma: Fondazione Make in Italy CDB. Retrieved from http://www.makeinitaly.foundation/wp-content/uploads/2015/02/Censimento_Make_in_Italy.pdf
BibTeX
@techreport

{menichinelli_censimento_2015,
    

address

 = 

{Roma}

,
    

title

 = 

{Censimento dei {Laboratori} di {Fabbricazione} {Digitale} in {Italia} 2014}

,
    

url

 = 

{http://www.makeinitaly.foundation/wp-content/uploads/2015/02/Censimento_Make_in_Italy.pdf}

,
    

institution

 = 

{Fondazione Make in Italy CDB}

,
    

author

 = 

{Menichinelli, Massimo and Ranellucci, Alessandro}

,
    

month

 = feb,
    

year

 = 

{2015}


}

Data
---
---
Software
The Python notebooks used for analyzing the data and visualizing it are accessible as open source here:
This research was developed by: